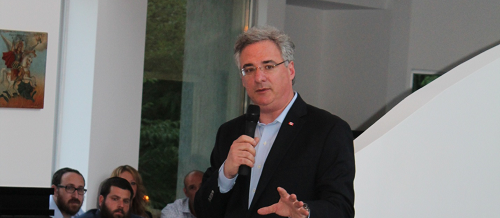 New group aids dementia patients, caregivers
August 12, 2014

|

By memory

|

no comment

|
Mark Adler, MP for York Centre, speaks at the launch of The Memory Loss Foundation
TORONTO — The Memory Loss Foundation was launched this summer in order to help make a difference in the lives of patients with dementia and their caregivers.
Started up by Judy Cohen, founder of L'chaim Retirement Home and Dementia Support Seniors Day Centre, the foundation, among other things, helps individuals with dementia attend specialized day centers, counsels families through support groups and research centers and educates dementia unit staff members in the Montessori method for dementia program, which is used at both L'chaim and the day center.
The Montessori method, which takes its principles from the method created for children, gets people to do tasks that feel familiar, as well as take part in brain-boosting games and discussion groups, and creates a physical environment that's designed to both re-assure and stimulate.
In an interview at the day center, Cohen said many people can't care for their family members who have dementia.
"Patients need care 24/7. Many families cannot afford help, cannot care for their family member themselves, and there is a long wait for nursing homes. The government is trying, but is not doing enough."
Even if the patient is in a nursing home, she said, caregivers are still necessary and don't usually have experience working with people with dementia.
"There is no cure and no medicine for dementia, so we are looking for a way to help out."
Deborah Rothenberg, vice-chair of the foundation, said its primary goal is to train and educate caregivers in facilities and at home.
"In facilities now, unfortunately, dementia patients are given too many meds [to keep them calm.] Elderly people are often agitated, and sometimes get aggressive," Rothenberg said.
"Montessori applies non-pharmaceutical, holistic methods to help keep patients calm. By giving them particular tasks to do, their anxiety and agitation is greatly reduced. It's not rocket science, it's just an approach," she added.
The foundation subsidizes participants who attend the day center twice a week and pay $20 a day, which includes lunch and snacks.
Cohen said statistics show that "dementia is a rising tide. The numbers are astonishing, and it's 100 per cent fatal. The foundation goes where it is needed."
For information, visit memorylossfoundation.ca, or call 1-888-635-0649 or 647-247-1141.